My handmade willow wreaths range in size from tiny ones to giant ones at approximately 120cm diameter! They are suitable for the home, weddings, events and more…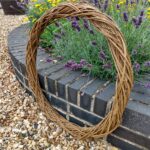 All my wreaths are fully natural (they have no metal/plastic inner) meaning they may have a little movement in their shape and are fully biodegradable. I make them with brown willow grown in the UK, and each wreath will differ a little in tone and look as willow is a natural product and harvests vary, which only adds to their rustic charm.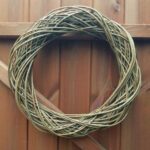 Where to purchase:
* Wreaths up to 40cm diameter you can order direct for collection or to be posted out (postage will be added to the price), plus you will usually find these in my online shop too. Please note I only post to within the UK
* Larger sizes (50cm diameter+) made to order are collection only from Bretford village near Rugby, Warwickshire (CV23), or I can drop off to local villages (Brinklow, The Lawfords, Monks Kirby, Ryton on Dunsmore, etc…) Please check your vehicle size before ordering – 120cm is pretty big!
Current price guide:
The size is the diameter of the hoop (measured at the outer edge) and is approximate. They are a chunky design but slimmer hoops can be made…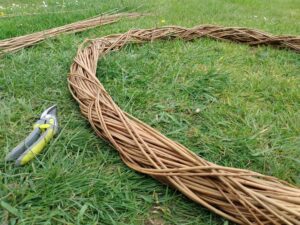 30cm  – £12
40cm – £15
50cm – £20
60cm – £25
70cm – £35
80cm – £45
90cm – £55
100cm – £65
120cm – £85
I also bring a mix of sizes and styles with me to local craft markets, plus local stockists of my work holds a stock of my smaller wreaths.
* Please get in touch if you have any questions or wish to order *